Had to do some work-arounds and some features are enabled only after the next Hollywood update, but I think I got this to quite nice shape anyway
RNOAnim
is a compact animation player that also has some conversion and editing functions.
- MUI GUI (MUI Royale)
- Internal loaders: IFF, GIF, AVI (uncompressed/MJPEG)
- Included plugins: APNG, FLI/FLC, YAFA
- Can save (convert) to: GIF, APNG, and AVI (MJPEG)
- Can export frames to PNG images
- Animations can be resized freely by resizing the window
- Several options to alter the playback speed
- Animation frames can be added, inserted, or removed
- All changes (size, speed, frames) will be saved when saving a new animation
- Drag & drop loading
- Extensive ARexx support
- Keyboard and mouse controls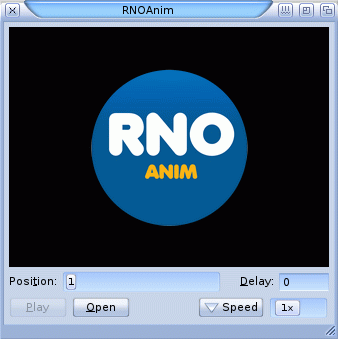 (GIF anim created with RNOAnim!)
Available for MorphOS and OS4 from
Aminet
now. Also if you install it with
Grunch
on MorphOS, you'll get Ambient mimetypes configured automatically for different animation formats.